Time waits for no brand. Hard deadlines make for imposing challenges, especially when you're trying to turn a CGI showcase into a virtual reality for a pair of major trade shows. The good news for brands is that TRG Multimedia is capable of time wizardry (and by time wizardry, we mean executing complex, high-quality CGI within tight timeframes).
As the No. 1 faucet brand in North America, Moen is a regular presence at both the Consumer Electronic Show (CES) and Kitchen & Bath Industry Show (KBIS). However, not everyone can make it to the shows. That's why Moen turned to TRG to create the Moen 2022 Digital Experience, a pair of virtual experiences to showcase their latest kitchen and bath products and innovations.
What Moen Needed
As you may guess by the phrase "virtual experience," it was our job to create super-realistic CGI showcases. These online experiences make it possible for Moen to highlight products like their Smart Faucet with Gesture Control and M-CORE Universal Valve System in a striking online setting.
Of course, a virtual experience calls for more than just pretty images of cool products. Each setting had to let users explore the digital kitchen and bathroom and see the new products in action. People visiting these virtual scenes would be able to click on the various products, see an animation of how they work, and access sell sheets for each item. In short, users would get a showroom experience, except that showroom is accessible while they're at home in gym shorts and a t-shirt.
Simple concept, right? Nope – in fact, it's extremely complicated to create, especially when you factor in timelines and the potential for changes during product launches. The good news is that we love turning complicated projects into stunning solutions, so it was time to get to work for Moen.
How We Made That Happen
Every multimedia project has a few key challenges that we need to address. For Moen's virtual experience showcases, that meant:
Creating a seamless visual experience through CGI animation

Getting everything done on time

Rolling with the inevitable punches during a product launch
Fortunately for us, we like to get creative (we are multimedia experts after all). It was our job to create two entire CGI sets and a few minutes of CGI animation for a smooth online visual experience. Challenge accepted.
Saving time with pre-approved room sets
The first step was to build out the CGI sets for the separate kitchen and bathroom scenes. Even though everything in the virtual experience was CGI, this process typically calls for a lot of styling work.
Since we had worked with Moen in the past, we suggested a different solution to save both time and money – let's base the showcase off some pre-existing room sets that Moen already approved for other projects. Since Moen already knew and liked the sets, that one idea allowed us to:
Use existing blueprints to rebuild the kitchen and bathroom in CGI

Eliminate the need for extensive styling and other design steps since Moen
The end result? Our solution not only saved Moen an estimated $5,000 to $10,000, but also valuable time to help them hit their CES and KBIS deadlines.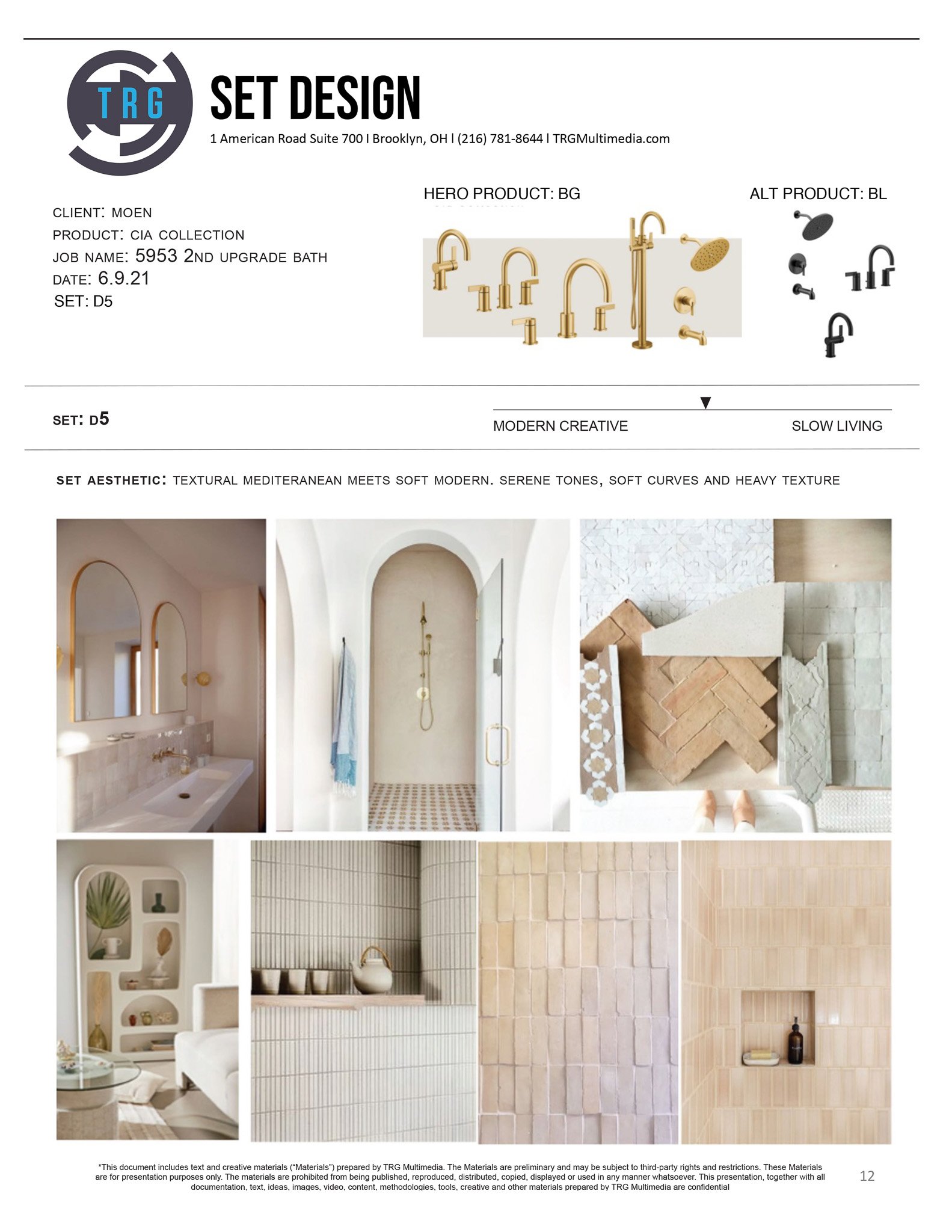 Crafting creative systems to create cool, complicated CGI animation
Once we had the rooms in place, it was time to fill them. Of course, what we built in CGI evolved over the course of the project. We worked closely with Moen to tailor each room for CES and KBIS, as attendees for each show would be interested in different products. As a result, each show got a different virtual experience.
As for the actual showcase itself, this was no simple animation. CGI generalists Tyler Spicher and Julie Milliman had to create super-realistic animations that were both interesting to watch and smooth enough not to induce nausea. Every camera movement, water simulation, and lighting arrangement had to be just right or else users would be feeling a bit of virtual insanity (and Jamiroquai isn't around to help). So how did we mange to balance this tricky CGI dance? Simply put, Tyler and Julie are great at what they do.
It's also important to note that the products themselves could change over the course of the project. This wasn't a surprise – product launches are always going to have changes. The problem is that we had 3,000 individual frames that we had to render to complete the showcases, and the rendering process could take a few weeks. As you may expect, redoing that process isn't a pretty prospect on a tight timeline.
Again, Tyler and Julie are very good at what they do, so they came up with a system that was flexible enough to change out or modify CGI assets and animations. First, we split up the rendering between our computers and GarageFarm, an outside partner. Sometimes, one studio only has so many computers, so we used GarageFarm to cut down on rendering time.
Second, we'd generate masks and do other very technical sounding tasks that gave us a whole bunch of flexibility. This system made it possible to make changes in post-processing after the frames are rendered. For example, if we need to change the color of a faucet or change the color of a blinking light, we could do that in post. We're happy because it saves us work, and Moen is happy because they don't have to wait nearly as long.
Of course, these virtual experiences have to live somewhere. We brought in Aztek, a web development partner, to build a website for the Moen 2022 Digital Experience. This allowed us to incorporate interactive links to Moen's products within the animation and cycle between other showcases.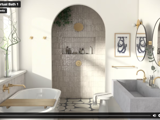 The End Results
If a picture is worth a thousand words, then a pair of virtual experiences have to be worth a whole lot more. We not only created the showcases in time for both CES and KBIS, we're still tracking how many people are visiting the Digital Experience to this day. Inside sources can confirm that Moen was thrilled.
Now that you've read enough about this project, it's time to check the Moen 2022 Digital Experience out for yourself.
Pretty cool, right? If your brand needs some stunning CGI, we're here to help. Contact us today about how we can turn your visions into a virtual reality for your organization.