Last week, we wrote about the oft-disputed debate between Nikon and Canon photography gear. We can't say one is definitively better than the other, but what we can say is that producing terrific photography is about more than having the right gear. It's about the artist holding the camera.
It takes a little bit more than sheer talent, though. Great photography takes a tremendous amount of preparation. In today's post, I'm going to provide a little peek inside what I carry in my camera bag when I go on a shoot. I'm sure you'll notice one recurring theme; I take backups and extras of just about everything. 
In Adam's Camera Bag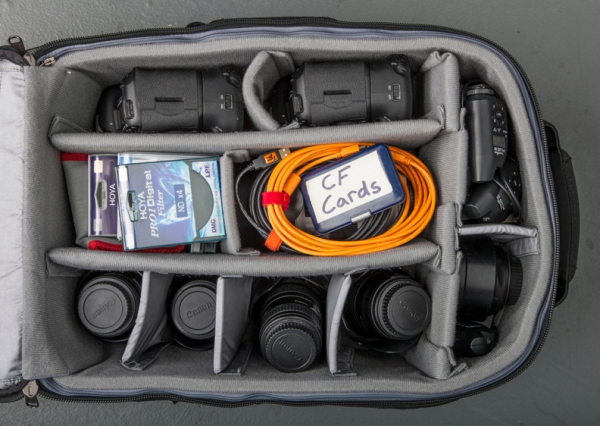 Slots 1 & 2
These two spaces contain my cameras, a primary and a backup. I always have two, because you really never know what's going to happen. I use Canon EOS 5D Mark III cameras, the latest in Canon's 5D series. They have a great autofocus, very high ISO capabilities, and they shoot clean photos in low light situations. They also come equipped with full-frame sensors and video shooting capabilities. These cameras can do pretty much whatever I want them to do. 
Slot 3
This is where I keep at least four extra batteries, two chargers and two transmitters (one radio remote and one slave). I've never had to change a battery, but again, you never know what's going to go down on a shoot. Extra batters are especially useful when I'm shooting video, since that uses up more battery power. 
The radio remote I carry pops the strobe remotely (up to 1,200 feet away), and the signal can even pass through walls. Every time I snap a photo, I'm paging the strobe to fire. 
Slot 4
The fourth slot carries an 85mm Canon lens. This is a beautiful lens with terrific autofocus, and it adds a natural vignetting when I shoot wide open. I also keep a few Hoya filters in this space (ND4 and ND2), which provide another way to add more lighting and depth of field control no matter where I am. These filters help balance ambient lighting and flash lighting.  
Slot 5
I always pack a 70-200mm telephoto zoom lens. This lens is a good multi-purpose zoom to have along on any shoot. It doesn't have a very wide aperture, but it's incredibly versatile.  
I also keep a few USB cables that tether my camera to a laptop. 
Slot 6
This is where I pack my 100mm Canon lens. This lens is a macro specialty lens, and I use it most often when I'm photographing food or shooting portraits. It's very good at capturing tremendous detail up close. 
Slot 7
Slot 7 is a 35mm Canon lens with a very fast 1.4 aperture. It's terrific in tight situations and great for shooting a landscape. It's overall a very good general purpose wide-angle lens. 
Slot 8
This is where I pack my 16-35mm wide-angle zoom lens. It's an ultra-wide to semi-wide multi-purpose zoom with a 2.8 aperture, and it's incredibly versatile. 
Slot 9
Another Canon lens here: a 24mm with a 1.4 aperture. 
Slot 10
Yes, I carry a lot of lenses! But this one's special. This is where I pack my very favorite lens in the world: my 50mm Canon lens. The general feel of photos taken with the 50mm is that of closing one eye and seeing only through the open one. In other words, the 50mm lens results in images that are extremely realistic.
I also pack an extra radio transmitter in with my 50mm lens. You can never be too prepared.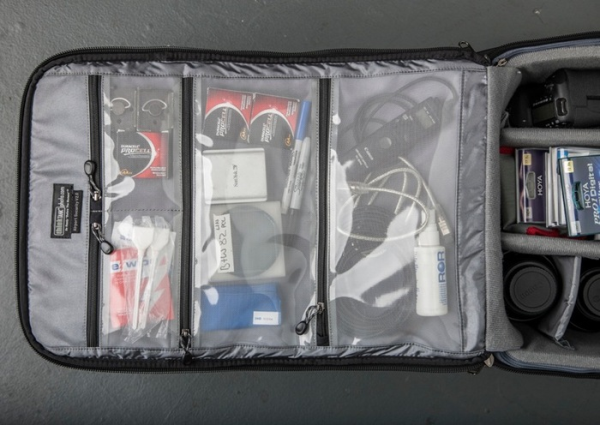 Slot 11
Here's where I keep clips that attach my cameras to the quick-release ball head for use with a tripod. I also store a bunch of AA batteries for the transmitters. 
Slot 12
When I'm out on a shoot, there's a good chance everything in my bag will get filthy. I always carry easy wipes so I can clean my gear, mainly the sensors and lenses. 
Slot 13
Even more batteries, because you can never be too cautious. I also throw in a few Sharpie markers and a card reader. The card reader allows me to back up the images immediately (each camera has a 32 gig card).  
I also keep a polarizing filter in this space, which helps control reflections when shooting. This filter is good for taking outdoor shots of buildings, windows or similar reflective surfaces.  
And finally, I always throw in a microfiber cleaning cloth to help keep my gear nice and clean.
Slot 14
I always take my shutter release, which allows me to shoot longer exposures. I can lock my mirror up and shoot without even touching the camera, which comes in handy on certain shoots. 
I also carry a FireWire 800/800 cable (which connects to the card reader), a sync cord to connect the camera if the card reader fails, and some residual oil remover to clean my lenses. 
Odds & Ends
By the end of a long shoot, there's a good chance a few miscellaneous items will wind up in my bag, too: a pair of sunglasses, cigarettes, a pack of gum, a bottle of water, and maybe even a little snack. 
The Bag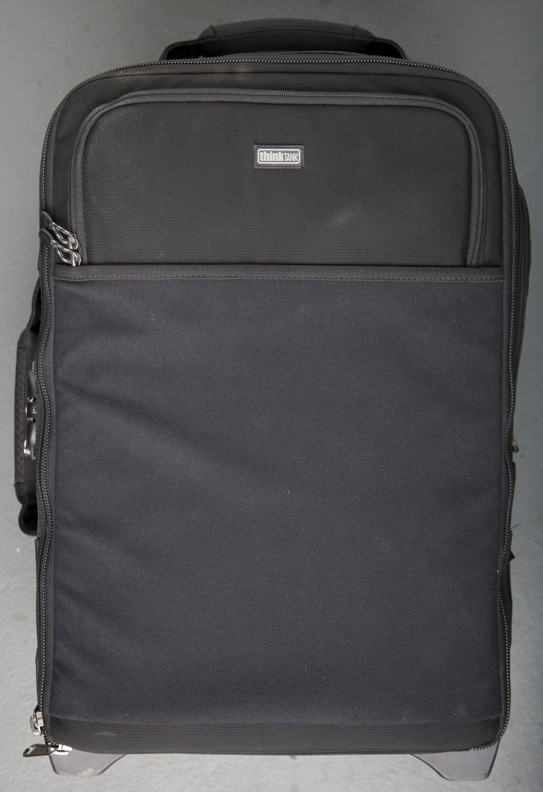 The photo bag itself is by Think Tank. Like you saw above, this bag has tons of little compartments to store all of the different pieces of gear and equipment I need on any type of shoot. It also fits conveniently in an airplane's overhead compartment, so I never have to check any luggage when I'm traveling. 
What do you carry with you when shooting? Anything different than me? I'd love to hear your thoughts!