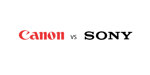 Sony vs. Canon: How Our Decision Affects You
The Sony v. Canon debate continues within the studio. Find out how our decision benefits our customers.

Nikon vs. Canon: Which Photography Gear is Better?
We might as well be asking, "What is the meaning of life?" The Nikon versus Canon debate has been raging for a long time, starting back when the brands were both born. Interestingly, the very first Canon camera, which was introduced in 1935, had a Nikon lens (although the brand was Nikkor at the time).