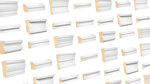 The first project I ever worked on (which remains one of my favorites to this day) was a room-set animation project for a new client that TRG had just started a relationship with. The project was for an international company that makes Interior Mouldings and Doors and they had some pretty cool concepts and ideas, however, I don't think anyone on the team knew exactly what to expect when the project launched. I certainly didn't see it being as beautiful or fun as it turned out to be.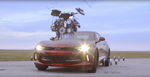 Combining CGI and Video Makes for One Sweet Automotive Video
We often talk about combining our services to create something pretty spectacular - and we recently completed something that is a perfect example of just that.