Seven Different Types of Photoshoots (Updated 2022)
Different photoshoots help you capture everything from products to recipes. Learn more about these seven different types of photo shoots from TRG.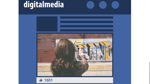 Digital Media is quickly becoming some of our studio's favorite projects. Recently we created a super cool reel to showcase our recent Digital Media projects that we'd love for you to see.