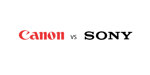 Sony vs. Canon: How Our Decision Affects You
The Sony v. Canon debate continues within the studio. Find out how our decision benefits our customers.

4 Reasons You Need High Quality Imagery Right Now
Ok, we say it all the time and by now, you're probably sick of hearing it - but this is true, we live for creating imagery of all kinds. It doesn't matter what the product is, what you're using it for, or what your overall project goals are, there is nothing that excites us more than to partner with you and work together to bring your ideas to life.